Calvary Chapel Valdosta exists for the purpose of reaching weary, scattered, and aimless people (sheep without a shepherd) in a city without limits.
- Matthew 9:36 / Mark 6:34
Pastor C. D. Van Cleave delivers a Mother's Day 2022 message.
Pastor C. D. Van Cleave delivers a special 2022 Palm Sunday message.
Listen as Pastor C. D. Van Cleave covers the book of 1st Samuel, line upon line. The book's theme is "Building Godly Character."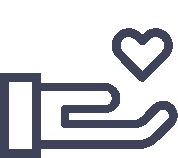 The Ministry of Giving
Giving is the biblical practice of setting aside a portion of what you earn for the Lord's use particularly within a church, ministry, organization or a specific need that will further the Gospel, spread the Word of God, and build up God's people. The amount you set aside should be between you and the Lord.
​
Giving is a form of thankfulness. It is often a good indicator of the condition of our hearts. Thankful hearts are usually giving hearts.
Giving is not just providing money but can be accomplished using your three T's: Talents (God-given ability to assist in a specific way), Time (sacrifice to serve), and Treasure (resources).


Giving Guidelines
Giving should be a willing desire born from the heart, not forced or compelled upon you. For God loves a cheerful giver [ 2 Corinthians 9:7 ]
Giving should be discreet, done in a way that only God will get the glory from the offering and all the attention will stay on Him [ Matthew 6:1-4 ]
Giving should be a regular part of our worship and devotion to God for all that He has done for us [1 Corinthians 16:1-2 ]